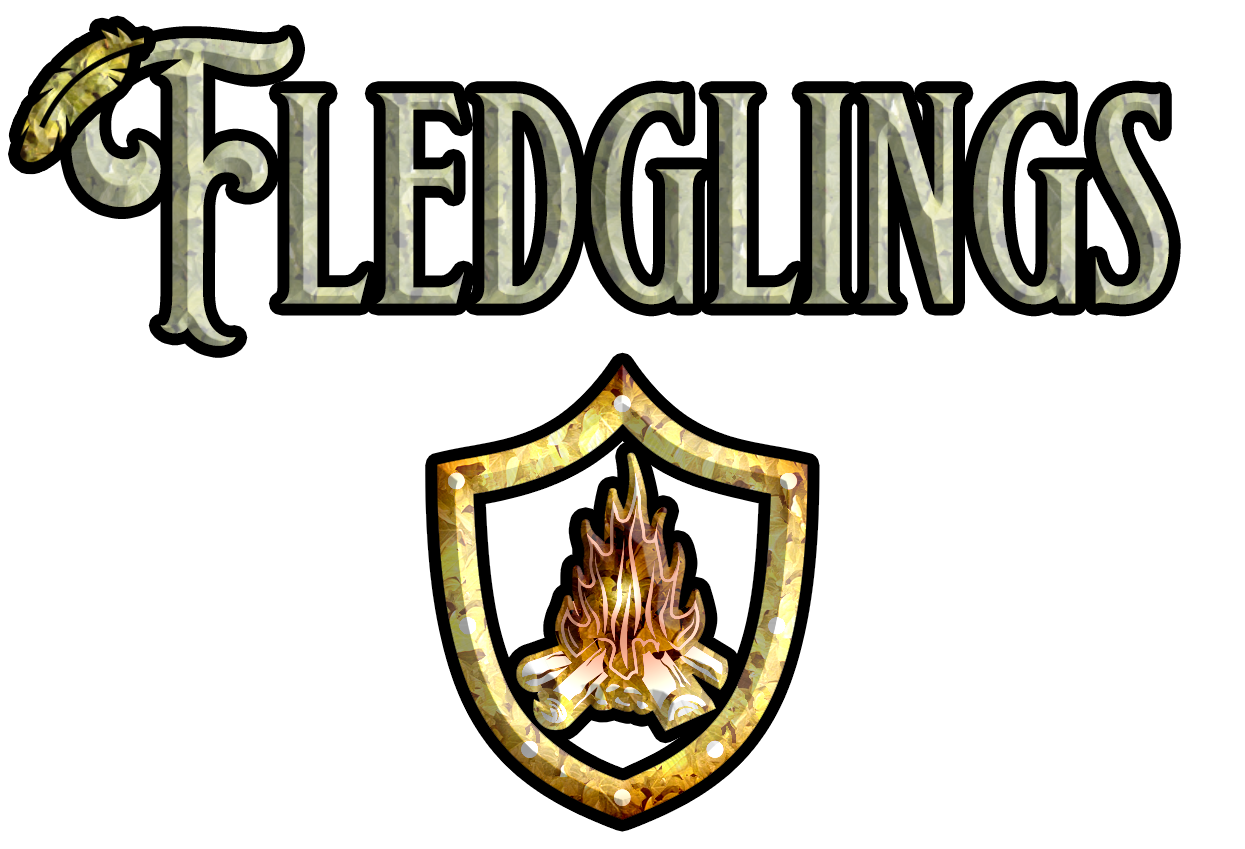 Fledglings
Each year, the town calls on their allies, a peaceful goblin tribe from the western wood, to construct a trial dungeon, filled with puzzles, traps and monsters, so six youngsters can use their training to prove themselves.
Armed with your patches for lore, exploration, a spirit bond and two special skills, you pack your bag with food, water, a few tools, and one magical treasure from your mentor. You call your bonded companion (an animal or spirit) and follow the goblin trail.
The goblins want you to succeed safely, but challenge prepares you for the wider world. The traps are sharp, but clean (to prevent infection). If things get out of hand, they (along with your pet) might step in to protect you from real harm.
Fledglings is a simple role-playing game about aspirant adventurers-in-training facing a final test to earn their adventuring patch - the magical fantasy equivalent of wilderness scouts or guides, being taught what they will need to keep themselves, and those they love, safe from the dangers of the wider world. It draws inspiration from the Lookouts comics, the Wildlings RPG (among other games by John Harper) and the Wardlings miniatures from WizKids.
These fledglings are training to be clerics, druids, fighters, rangers, rogues and wizards. They have the beginnings of their skills and abilities but have never really tested them before today. It's a defining moment for them as the future heroes of their world.
The character sheets contain the barest details. Instead, the players reveal their skills and equipment in play by declaring them as the story requires. This allows each player to invent likely solutions to their challenges in line with how they imagine themselves rising to meet them.
With the real dangers in their future, this game is a moment to explore the fantasy adventure genre in a safe and emergent way, where glimpses of peril are cushioned by the last support structures of youth, family and culture before setting out on your own. The tone and subject matter reflects these aims by occasionally menacing without maiming or killing characters...yet.
You can continue using these rules beyond that part of their story, or move the characters to a more complicated ruleset like Hero Kids or Dungeons & Dragons when the players are ready.
All Fledglings adventures I write will be added to this page in the future, free of charge. Currently included are sample adventures from 2018 and 2019.
Purchase
In order to download this game you must purchase it at or above the minimum price of $5 USD. You will get access to the following files:
Fledglings_Guide_booklet-spread.pdf
94 kB
Fledglings_Satchels-Patches-Tokens_booklet-spread.pdf
569 kB
Fledglings_Challenge_Template_booklet-spread.pdf
69 kB
Fledglings_2018_Challenge_booklet-spread.pdf
120 kB
Fledglings_2019_Challenge_booklet-spread.pdf
74 kB